Elad Debi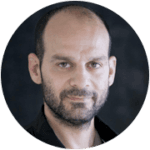 Elad Debi
Elad began his career as a feature film cinematographer in the late nineties.
Over many years of shooting features, documentaries, commercials, and TV series, Elad has had the opportunity to collaborate with scores of artists from Israel and abroad, and has come to see these relationships as a central component of his life and career.
Furthermore,  a result of these fruitful collaborations, Elad has been exposed to a wide range of filmmaking approaches. His unique approach combines the use of traditional media and filmmaking methodology with cutting edge technology and contemporary cinematic language.