Yoni Mordechay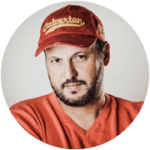 Yoni Mordechay
Yoni Mordechai is an expert that gives his all.
He is in charge of dozens of commercials for television and digital media for some of Israel's leading brands: Bank Hapoalim, Delek Menta, Osem, Domino's Pizza and others.
His unique contribution to each and every commercial is reflected in his attention to detail, work with actors, storytelling and combining all components into one unit- all this is what makes each of his commercials memorable and effective.
Yoni is on the managing board of the Israeli Directors Guild, and is a regular lecturer on directing music videos and directing in the digital age at the "Stage Workshop."