Uri Ackerman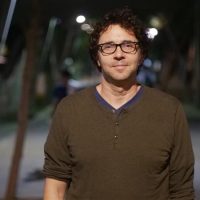 Uri Ackerman
Uri Ackerman is a cinematographer who works in a variety of settings, including drama series, documentary films, commercials and video art.
Many of his films have won prizes and have competed in international film festivals, such as the 2011 Emmy Award-winning "Google Baby," which also won the Best Documentary Award at DocAviv 2009, and "Army of Lovers," which won the Haifa Film Festival in 2018.
In addition, Uri was nominated twice by the Israeli Academy for his work on the drama series "The Screenwriter" (Channel 1) and "Dumb" (HOT). He was also nominated by the Documentary Forum for his cinematography on "The Kozalchik Affair," directed by Roni Ninio.
He shot "The Good Cop - Season 2" (YES) and "La Familia - Season 3" (Reshet), and has collaborated with renowned video artist Yael Bartana on films in Poland, Germany and Denmark.
Whether he's on set or prepping for a new project, Uri remains as passionate for the craft of cinematography as he was on his first day as a student at the Camera Obscura Film School.