Marc Grey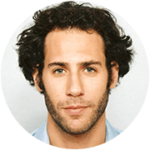 Marc Grey
Marc Grey is an American writer and director of short films and commercial videos.
His first short film EAST RIVER (2008) was awarded for its cinematography, and featured Academy Award winning actress Lupita Nyongo in her onscreen debut.  In 2014, Marc was awarded Best Director for his second short film, NIGHT BEFORE THE MORNING SUN, at Cinefiesta, the Puerto Rico International Film Festival. His third short, DREAMCO, debuted at the Haifa International Film Festival, and was distributed, along with Marc's prior two films, by ShortsTV.
Marc lives and works in Tel Aviv, where he has worked on commercial video campaigns since 2010. As a writer he has had the privilege to work with Israel's leading commercial directors and animators on some of the country's most unique and well known campaigns, including the Ministry of Absorption's viral video "Come Study with Us," and "Tasty-Tasty," starring Isaiah Mustafa, for Maccabi Beer.
Marc's films have been featured online at Indie Wire, Film School Rejects, Director's Notes, The Huffington Post, and Digg.com. He is the writer of numerous articles, short stories, screenplays, and video campaigns, and his work been published in The Daily Beast, Word Riot, The Forward, Creative Times, and The Jerusalem Post.