Maor Zabar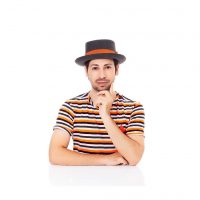 Maor Zabar
Maor is a costume designer who works in television, commercials, and theater.
Maor has been the lead costume designer of Super-Pharm's widely acclaimed commercial campaigns since 2013.
He designed costumes for many of Israel's Eurovision contestants, including contest-winner Neta Barzliai's victory dress.
In 2019, when Eurovision was hosted in Israel, Maor designed the costumes worn by contestants from all around the world in video dance "postcards" filmed throughout Israel.
In 2020 Maor designed costumes for all of the participants in "Festigal," Israel's perennial song and dance musical show for children.
Over an illustrious stage career, Maor has been the head designer of plays, musicals, operas and dance performances in Israel's largest theaters, and received prestigious awards for his work.
He is a graduate of the Fashion Design and Stage Arts program at Shenkar College, and is now a senior lecturer in Shenkar's Fashion Design Department.
Alongside his video and stage work, Maor owns a design studio where he creates costumes and hats.